Advanced Instrumentation and Methods for Materials Characterization research group is a part of CEITEC BUT research center. The group's objective is experimental research in the computed tomography field (micro and nano CT). Research includes the development and application of tomographic methods in various fields. Research group also develops μCT technology in cooperation with the world's leading manufacturers of CT and Synchrotron Elettra in Italy. It works closely with industry to help address R&D issues in various manufacturing and non-manufacturing sectors through non-destructive testing.
The laboratory was established in 2012 followed by an installation of a GE v | tome | x L 240 microtomographic station, which was the first one in the Czech Republic. Other unique stations from GE, Thermo Fisher Scientific and Rigaku were gradually added to its portfolio. The laboratory was accredited by the Czech Accreditation Institute based on the ISO / IEC 17025 standard and can provide outputs in accordance with industry standards such as VW 500093 or ASTM E505.
​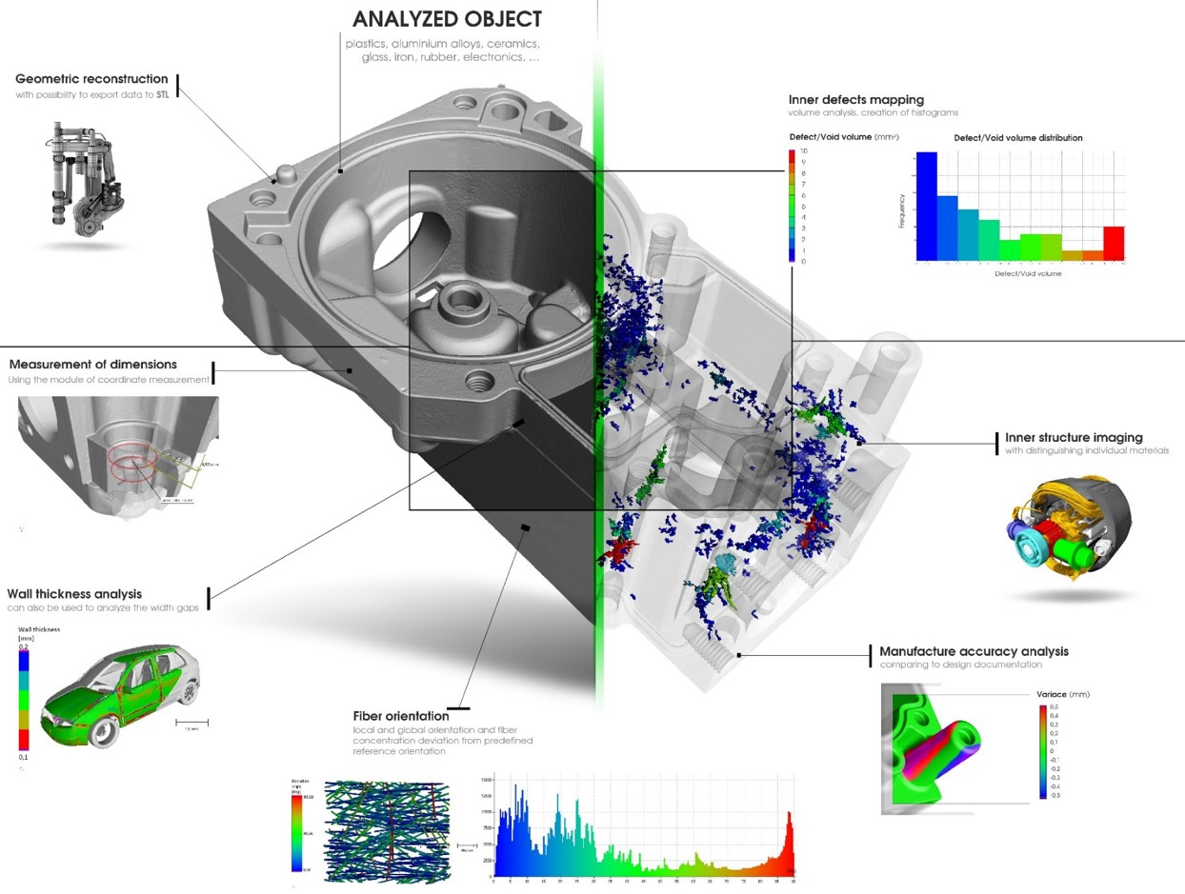 The laboratory regime meets industrial requirements, which allows to respond flexibly to the needs of industrial partners. At the same time, we focus on the quality of outputs and their interpretation to the end customer. We also provide a tomography training for better understanding of this technology.
In addition to using these nondestructive imaging techniques for 3D analysis and sample metrology, research is also focused on combining micro and nano CT with other analytical techniques such as optical scanning, scanning electron microscopy, metallography, or laser induced microplasma spectrometry (LIBS).
---
Take a virtual tour through our laboratories:
---
Certificates:
---
---
​Main industrial and scientific cooperating partners
---
Waygate Technologies (Germany, USA)

Rigaku (Japan)

Thermo Fisher Scientific (Czech Republic)

Volume Graphics (Germany)

X-RAYLAB (Germany)

Elettra Synchrotron (Italy)

Czech Metrology Institute (Czech Republic)

Karolinska Institutet (Sweden)

Institut Pasteur (France)

Medical University of Vienna (Austria)

The Czech Academy of Sciences

Charles University (Prague, Czech Republic)

Masaryk University (Brno, Czech Republic)

AdMaS (Advanced Materials, Structures and Technologies) centre, Faculty of Civil Engineering at Brno University of Technology (Czech Republic)

​The Slovak Academy of Science (Slovakia)